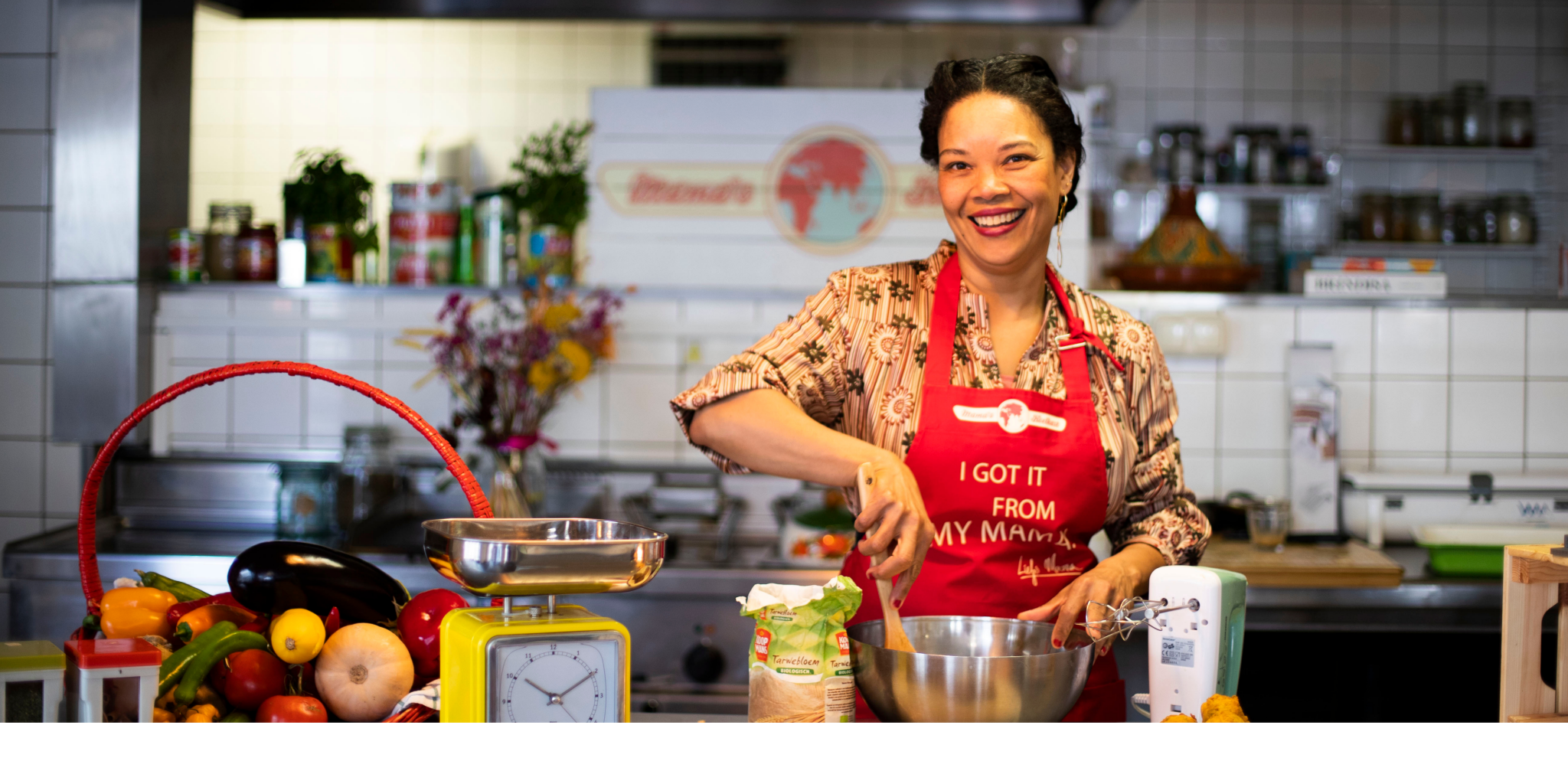 Menus
Menus
Are you curious about the authentic dishes of our Mamas?
These meals are a mere example: there are many more options. All available cuisines can be found on our Mama's page.
Balinese Cuisine
Cram Cam
Appetiser
Balinese chicken soup
Nasi Jinggo Ayam
Main course
Nasi with chicken or tempe, vegetables, egg, perkedel and sambal.
Jaja Klepon
Dessert
Stuffed glutinous rice balls with coconut sugar
Love, Mama Dian
Brazilian Cuisine
Carno Assada No Forno
Main course
Brazilian meat dish prepared in the oven
Mousse de Maracuja
Dessert
Mousse with passion fruit
Love, Mama Bira
Chinese (Cantonese) Cuisine
Maissoep
Appetiser
Maize Soup with surimi
Extras
Coloured Prawn crackers, Jasmine rice, homemade Chiu Chow chilli oil
Stew
course
Mushroom stew and fried bean curd with Chinese vegetables
Stuffed aubergine and bell pepper with shrimp in a spicy black bean sauce
Coconut Take
Dessert
Cantonese coconut cake with fresh fruit
Love, Mama Pao
Egyptian Cuisine
Singari
Main course
Egyptian fish stew with vegetables and brown ride
Basbousa
Dessert
Egyptian pistachio cake
Love, Mama Abier
Italian Cuisine
Panzanella invernale
Appetiser
Wintery farmer's salad with frisell bread, red cabbage, pumpkin, fennel, Taggia olives, red onion, and balsamic vinegar
Parmigiana di melanzane
Vegetarian Main course
Aubergines in tomato sauce and mozzarella
Tiramisu
Dessert
Savoiardi biscuits in coffee sauce and light mascarpone cream
Love, mama Cristina
Moroccan Cuisine
Lehdes
Appetiser
Lentil soup with mind
Moroccan tomato salad
Extras
Humus with coriander and lemon, Arabic bread, Zaalouk: roasted pepper aubergine dip, olives
Kefta in Chermilla
Main course
Meatballs in tomato sauce
Colourful and spicy couscous salad with green peas and roasted peppers
Date Palm Cake
Dessert
Oriental Date Palm Cake with walnuts
Love, mama Khadija
Palestinian Cuisine
Fattoush
Appetiser
Salad with homemade Lebanese bread
Dips
Lebanese Moussaka, aubergine dip, humus, chickpea dip
Kedrah
Main course
A Palestinian rice dish with chicken
Malabi
Dessert
Panna cotta from the Middle East
Love, Mama Manai
Surinamese Cuisine
Peanut Soup
Vegetarian Appetiser
Heart-warming Surinamese peanut soup
Side dish
Bakabana, fried banana
Heri Heri
Main course
A traditional dish with earth fruits and cod
Bojo
Dessert
Surinamese-Creole cassava pie
Love, Mama Jane
Syrian Cuisine
Fattet Al-Makdous
Appetiser
Aubergine with roasted bell pepper and walnut
Kebab Hindi
Main course
Roasted minced meat with vegetables in tomato sauce
Baklava
Dessert
Filo pastry with pistachios and honey
Love, Mama Safa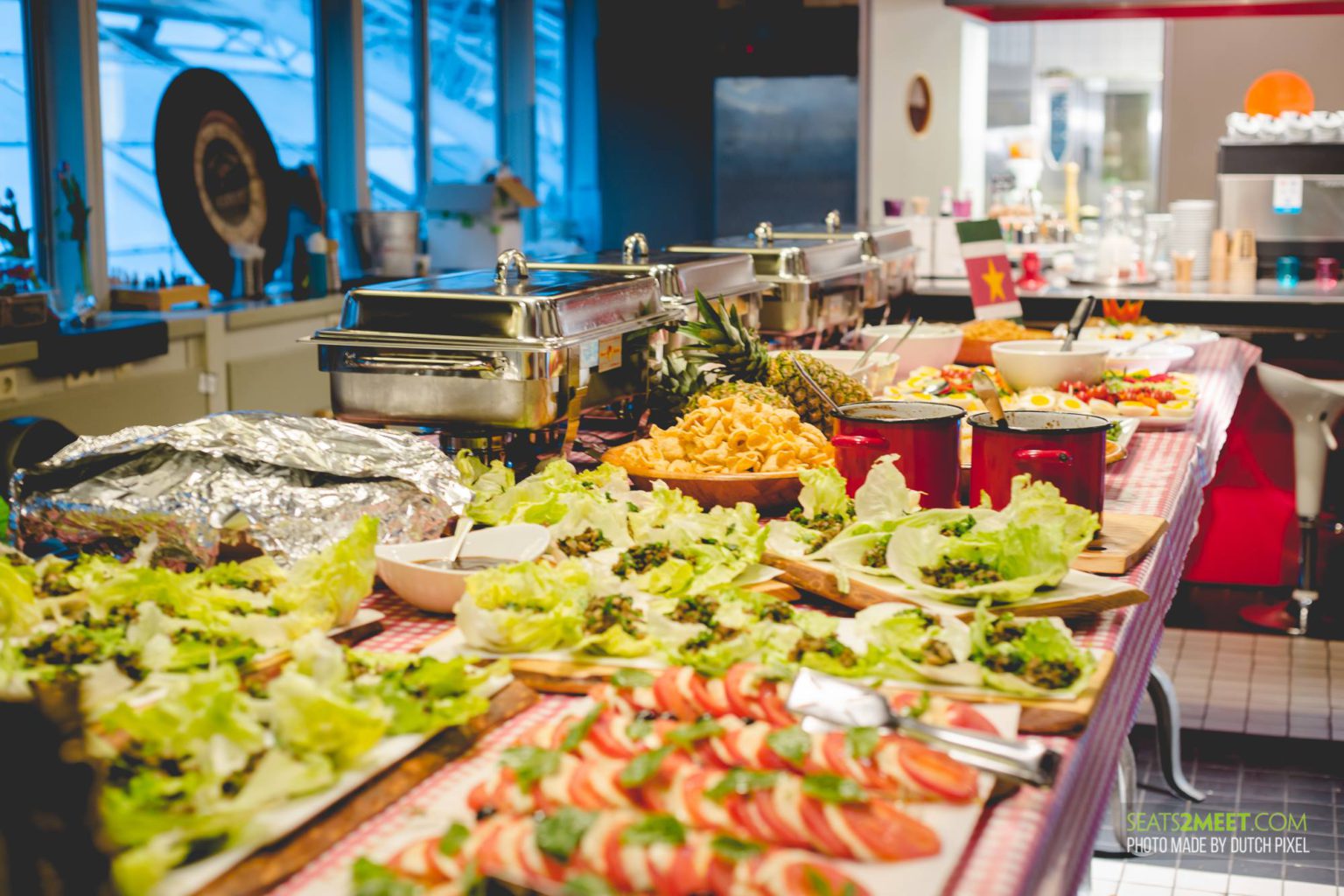 Do you want to ask a question or make a reservation?